Nowadays, in most modern houses, bi-fold doors are preferred for external use. Bi-fold doors with large glass panels usually are the key focal point because it will allow natural light to enter into your house. Such doors are also quite durable, sturdy, and cost-effective. 
The options available for getting sufficient insulation are sometimes double, and even triple. It can be your perfect choice for decreasing the energy cost for heating and cooling the space.
Let's first try to know what the plus points of choosing the bi-fold doors and windows for your home are. People usually prefer bi-fold options due to the following reasons.
Modern and stylish 

Safe and secure

Natural light

Longevity

Unequaled versatility

Combining space
There are several materials used to design the bi-fold doors, so which material is the right one. Choosing the wrong material will not be able to fulfill your purpose.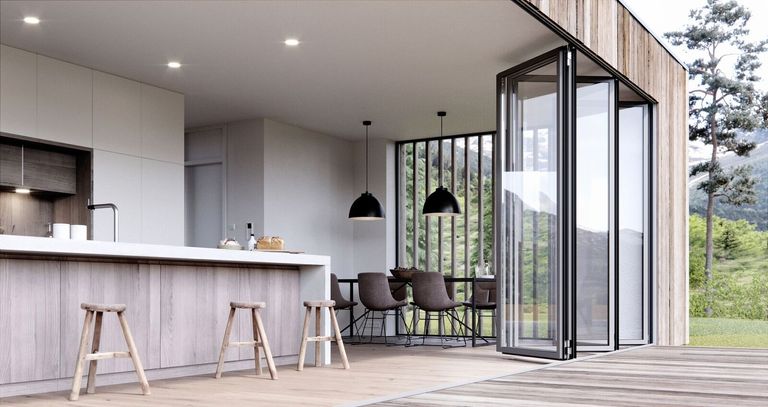 You get the following three material options to choose from:
Let's, therefore, try to see the pros and cons of every material to make an informed decision. You can however get the best quality of Schuco ass80fd bi-folding doors from "The Bifolding door factory. You visit their website to browse through their gallery and read the detailed information.
Timber bi-fold doors
Timber is the most preferred material for doors and windows, as it is a sturdy material that can keep us safe and protected.
Pros of timber bi-fold doors
Needs very little maintenance

Very durable material and therefore can be a safer option as external doors

Timber is considered to be environmentally friendly, which is also the demand of the day. As old trees get used, space gets vacated to plant more new trees in its place. This will help to provide more oxygen.

Timber doors provide an elegant appearance.

Pairing timber with glass can be a great option.
Cons of timber bi-fold doors
If you leave it untreated, then its color may fade or cracks may develop

In due course of time wood can start warping

Due to climatic temperature changes, timber may expand or contract. As a result, the doors will not function properly.
Aluminum bi-fold doors
Let's see the pros and cons of aluminum bi-folds.
Pros
Aluminum usually has a slim frame design and can blend well as a frame.

Being a lighter material it is easy to install. It is also comfortable to open or close an aluminum bi-fold doors.

Offers a stylish appearance to your home

Much easy to maintain
Cons:
During winter aluminum doors will be too cold to touch

As an insulator aluminum is poor

Much expensive as bi-fold doors
UPVC bi-fold doors
Pros:
Much inexpensive

Very low maintenance needed

Easy to clean

Versatile material

Offers good insulation
Cons:
It can expand or contract as per weather changes

UPVC is low strength material   
Equipped with the detailed information of every kind of material you can make an educated decision. The choice is subjective, so make sure that you make a wise decision.