Fitness is a word associated with exercise and is gradually becoming the order of the day because of certain benefits associated with it. Being physically and mentally fit is essential for your all-around health, and it can be easily achieved through exercise, but it requires determination. Exercise has many health benefits associated with it, apart from increasing weight loss and controlling appetite, which is one of the primary reasons people exercise. It gives you more relaxation and energy throughout the day.
Nowadays keeping fit is more than going to the gym, it can be achieved at home with just the right equipment. Home work out is even more beneficial, especially for those with a busy schedule and little time for the gym. A simple home workout can be the answer to your prayers. Apart from easy access to the gym equipment within the comfort of your home, it saves time and eliminates the inconvenience of traveling to the gym. It also eliminates the stress of having to wait in line for special gym equipment.  But be careful because you can quickly get bored and unmotivated because it's you alone, unlike a public gym where you socialize and get motivated by the people you meet. Nevertheless, if you are the focus, then you are set to go.
Recumbent Bikes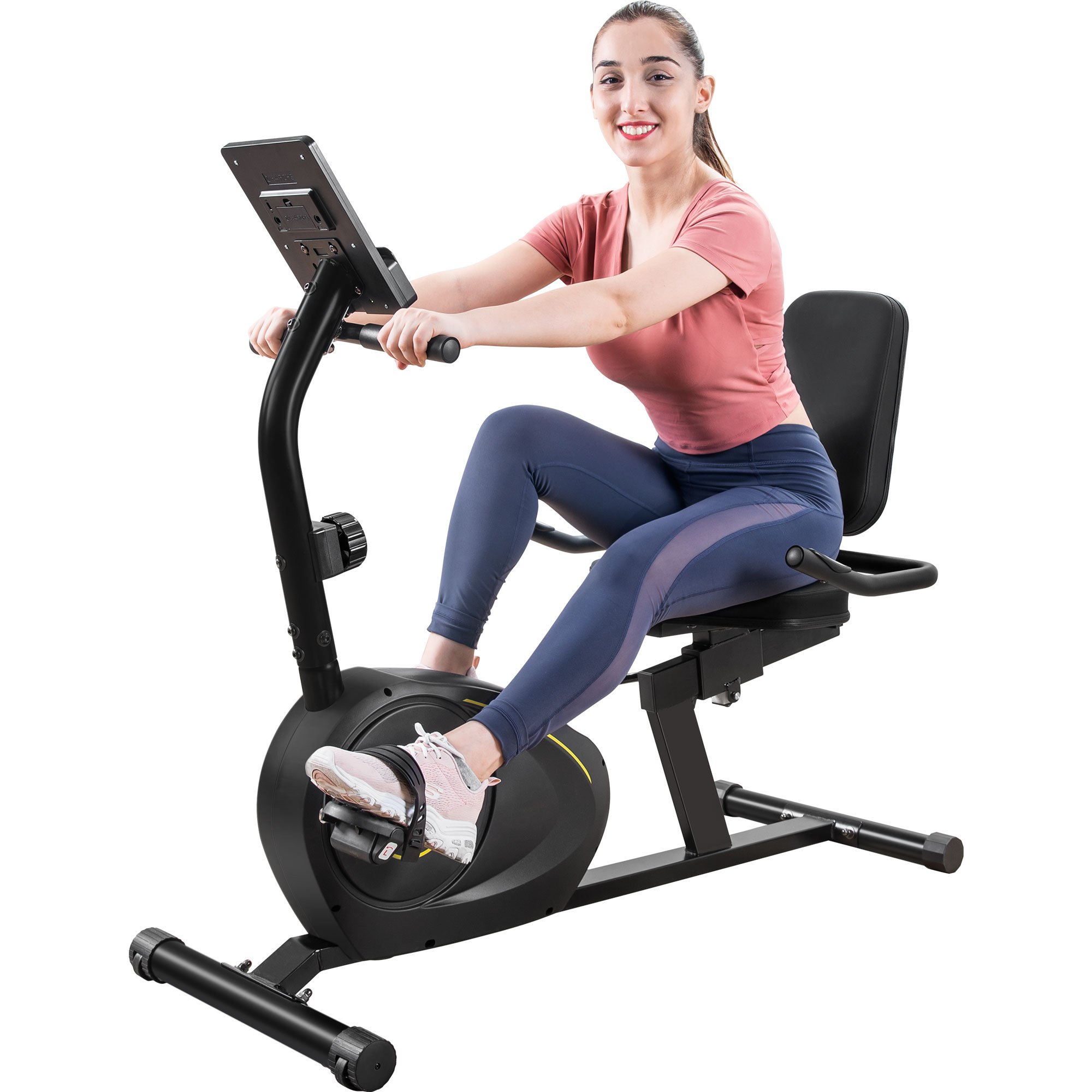 Exercise bikes are very vital equipment for a home workout. They offer a lot of benefits and is a perfect way to improve overall health. Workout bikes are straightforward to use, and practically you hop on it and paddle without doing any complicated yoga techniques or others. It comes in different sizes and designs and can be used both indoors and outdoors, depending on your purpose. The recumbent bike is accessible on the joint, and they help you burn lots of calories.
Before you go shopping for a recumbent bike, certain factors need to be considered. You don't just hop into a store and spend your hard earn cash on a piece of equipment that may later pose a challenge in the future. Here are a few things you need to know before making your decision:
Purpose: the purpose for which the bike is intended is highly vital before selecting one. For example, if the goal is to lose weight and work longer on the recumbent bike then you can go for a simple model with whistle and bells. These features keep you longer on the bike and may help you achieve your desired result.
Space, size, and shape: the amount of space available in your home will significantly influence the type of recumbent bike you are getting. If you have a limited amount of space in your home, it is advisable to go for small enough to fit into space. You can go for a bigger one if you have the luxury of space. Usually, the bigger comes also comes with extra features that you may like, but only if you have enough space to cater for this. The recumbent bike is different from an upright bike with the laid back seat where you can rest your back, but that also means it is going to eat more space.
Budget: apart from coming in various sizes and shapes, it also comes with various price tags, that is, you can get one depending on your budget. But the deal is you get what you paid for, the lower the cost, the fewer features it possesses. However, there are decent ones with decent features and a firm pedal that won't stretch your budget out of bounds.
Resistance and pedal: recumbent bikes come with a resistance level, i.e., the higher the resistance level, the tighter the pedal. If you are not fit, don't go for one with lower resistance level because it might be too much for you to handle But at the same time, go for ones that will give you a challenging workout, or if you have a lot of cash to spare, you can get one with varying degrees of resistance level.
Here are some of the top picks for recumbent bikes you can get for your home workout.
Schwinn 270 Recumbent bike
This is a best-seller, and here is the reason why; Schwinn 270 comes with a whopping 29 program and two tests for fitness. It comes with 25 different resistance levels and has a weight capacity of 300lb. The equipment does not weigh much, but it is quite sturdy. But with all these great features, it has it's own con's.  It is a bit complicated and expensive.
Exerpeutic Work Fit 1000 Desk Station folding Semi-recumbent Exercise Bike.
This equipment is dual purpose in nature and comes with eight resistant levels. It has less noisy belts with design to cater for back support and comfortable padding.  Also, you can easily track your progress with the display and sensor-based pulse system. But significant disadvantages of this equipment are the non-ergonomic backrest.
Exerpeutic 900XL Extended Capacity Recumbent Bike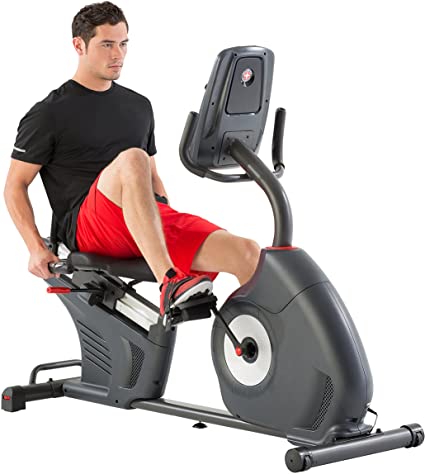 It comes with a unique design targeted toward reducing physical stress on your body while carrying out various exercises. It is very affordable when compared with others, and another significant advantage is that it comes with a three-year warranty. One of the mood killers about this equipment is that it is challenging to store in a small space and is less advanced technologically compared to some recumbent bikes, notwithstanding that it is manageable.
Exerpeutic 400XL Folding Bike
Exerpeutic Company is known for producing fitness products that are affordable and convenient to use, and this one is not different either. It comes with an adjustable seat and suitable for tall users. It is foldable and can be easily stored in small places, plus it is quiet and smooth to drive. However, it isn't easy to assemble and cannot be used for heavy-duty jobs.
Marcy Recumbent Exercise Bike
This is an excellent pick, especially if you are looking to shed a few weight. It is small and compact but very efficient and can easily Offer all the cardiovascular exercise done by a bigger bike. It is light in weight yet sturdy and comes with a transportation wheel which aids smooth transportation. However, it does not have any heart monitoring device.
Learn more on how to pick the best recumbent bike:
https://wirybody.com/best-recumbent-bike-reviews/