If you've spent any time shopping for the right luxury furniture for your home, you've probably come across the brand Ekornes. The luxury brand is known for its quality, comfort, and style and it may just be the perfect addition to your living space.
You may already know that the Stressless furniture collection by Ekornes is one of their most popular collections. But, you might still be on the fence as to whether or not a Stressless recliner piece is right for you. If so, here are the top reasons why Stressless recliners are a must-have for any luxury living space.
Top Reasons to Get a Stressless Recliner
1.   Top-Quality Materials
Manufactured with only the best materials and quality in mind, Stressless recliners are durable and constructed with no expense spared.
When you want quality and durability in a recliner, it doesn't get better than Stressless recliners. The base of the recliners is made with European beech and reinforced by one long steel rod. The attention to detail and quality in Stressless recliner chairs is unmatched.
2.   Excellent Construction
Having the best materials will only do so much if the construction of the chair is not equally as quality. With Stressless recliners, each chair is expertly constructed by both machine and hand.
Ekornes ensures that from the base of the Stressless recliner to the top-stitching, high-quality construction ensures the comfort of the chair. You'll be able to count on your Stressless recliner for years to come.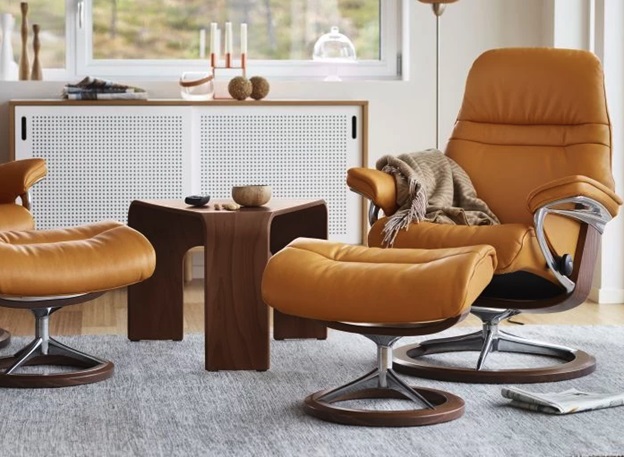 3.   Superior Support
Stressless recliners are designed to mold to your body. Your lumbar, neck, and body alignment are given a little extra attention with the support structure of the Stressless recliner. If you struggle to get comfortable in other chairs or feel that after a short amount of time the comfort and support fads, then a Stressless recliner may be the perfect fit.
The support in the Stressless recliner is so good that it is endorsed by the American Chiropractic Association.
In addition to quality support, Ekornes' offers ergonomically sound chairs that read your body's movements and adjust to keep you comfortable while you remain seated.
4.   Unparalleled Aesthetic
If you've employed expert interior design services for the rest of your home, then you want to choose the top-design choice for furniture too. When you want function mixed with design, Stressless recliners are the perfect choice. Not only do they offer comfort and durability, but they look great in any luxurious living space.
With modern and versatile designs you can choose the Stressless recliner that goes best with your home's interior design.
Luxury Recliner for Your Luxury Living Space
If you are looking for a comfortable, durable, high-quality addition to your luxurious living room, a Stressless recliner is the answer.