With the rise of Airbnb, people are starting to utilise every square inch of empty living space they have. Spare rooms, basements, attics, and even whole apartments are being advertised on the application daily. However, what few people realise is that a clever few Airbnb hosts are actually coming up with some creative ideas to help them earn a little more money. In fact, rather than hosting their guests inside their property, there are some hosts which are asking their guests to sleep outside (WHAT?!). Don't take this too literally, because a lot of these places actually get good reviews, so they must be doing something right. Well, here's a list of some of the ways that outdoor spaces are being utilised for Airbnb:
Campervans:

If there's no room in your house to host Airbnb guests, or you'd prefer to have some more privacy, then why not make use of your parking space? Many hosts have taken the initiative to invest in a fully furnished campervan, giving guests privacy, bathroom amenities, and a cosy environment that they might not be used to (but will certainly enjoy). Not only can you make money out of such a thing, but you'll also be able to go on holiday with it when nobody has got it booked. How great does that sound?

Treehouse huts:

If you've got a large, sturdy tree in your back garden, and you wouldn't mind a couple of guests spending the night halfway up it, then this is certainly an option. Treehouses needn't be too expensive to build, and the idea of sleeping in one can seem quite romantic for a young couple. You'll be able to give them the privacy that they want (and you probably want, too) at a fraction of the cost of renting a private apartment.

Log cabins:

If a treehouse seems a little too juvenile, then, garden area permitting, investing in

log cabins

can be the way to go. Don't build the rustic types, which are poorly built, cold, and not very visually appealing. Instead, make sure the walls are painted, there is good insulation, heating, electricity, and an overall cosy vibe. That way, you'll ensure that your guests will write glowing reviews.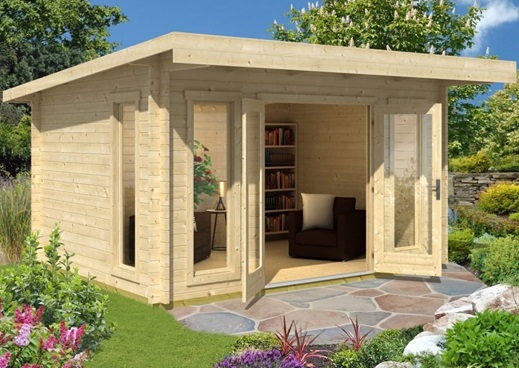 Tents:

Now this might sound a little ridiculous, and you'll have to ensure very competitive prices to pull it off. However, some Airbnb hosts are actually hosting people in their gardens with tents. In fact, if your house is located in a beautiful natural setting, and the weather isn't too bad, then some people might actually prefer to sleep under the stars. If there's a special event taking place nearby, such as a music festival, then many guests won't mind pitching up behind your home!
Although many might not expect it to be the case, outside spaces are incredibly useful for accommodation purposes. However, investment is almost always required in order to ensure that your guests are comfortable. Think outside the box and you might make a lot of money.