The popularity of Eastern cuisine, production and fashion has made sure that the Orient remains at the forefront of much interior design in the western world. The danger is, taking it too far and losing touch with the western traditions of neutral palettes, formality, shape and sentiment. With that said, how can you strike a balance between East and West to create the opulent and sparkling aesthetic we associate with the East, whilst maintaining and incorporating a western interior design style?
Recreating continental styles in a way that's implemented within typically Oriental design philosophy is more achievable than you may think. Combining a few of these strategies will put your interior design on the right track.
Print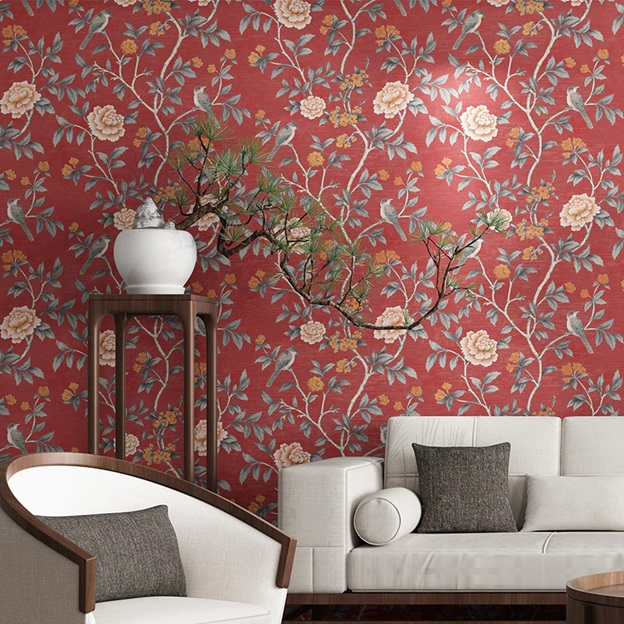 Incorporating a Chinoiserie print into the interiors of homes is a strategic way to shape a backdrop for what's to come. Delicate floral blossom motifs in golds and metallics are often associated with the East. When used to line the walls, interior designers should be careful to keep a monochrome palette elsewhere.
As most rooms are naturally composed with four main walls, one way to strike a balance is to avoid lining all walls with such a bold print. Stay selective and appreciate that a feature wall made of soundproofing materials can contribute to an eye-catching theme, without being overwhelming.
Don't overindulge
With a feature wall set in place, it can be tempting to get carried away. Bold patterns should be used modestly and with caution. Each room should have a clear and structured format that is complimented by a single pattern. Avoid overlapping patterns and remember that each comes with a theme. Floral motifs should complement each other and never be in competition.
Create the unexpected
Granted, the east-west aesthetic is nothing new and has grown in popularity. However, for a truly modern vibe, there are a few things you can do to create exciting and unexpected interiors by bringing the two together.
The colours we associate with the East may at first instance be bright shades of red and green. These are hugely meaningful in China, especially, where red is traditionally symbolic of happiness. Mix things up by creating the look with colours that are symbolic in the West. For example, a Chinoiserie pattern in soft yellow and green may help to evoke feelings of calm and creativity in the West. When done correctly, the East-West aesthetic isn't lost, but adapted.
 Simple backdrops
When feature walls are avoided and simple backdrops are preferred, it preps the room with far more scope for furnishings, upholstery and colour. Simple backdrops often create pleasing symmetry, strong lines and room for elegant, patterned and textured upholstery.
Utilise natural materials
Japan, in particular, highly respect natural elements and incorporate their tones and textures in their interiors. They're careful to avoid over adorning nature with colour and decorative features, but rather, respect the raw, natural aesthetic. Think bamboo, stone and exposed, organic floors. A sparing use of colour, in these instances, allows such natural hues to shine.
Colour
We know that red has a significant meaning in China, and can all appreciate the rich tones of greens and yellows that often accompany it. When thinking about an accent colour, you can't go wrong with indigo blue.
A splash of this dark, rich and deep blue, which still defines Japanese style today, is a great place to start. Find immediate Oriental vibes the moment it's applied and engage it with metallic golds and silver for the opulent, traditional style.
Simple meets opulent
Combining the opulent looks of the traditional East with the simplicity of the West is a sure way to strike the balance. Think about mixing clean pale wood flooring, panelled walls and doors, with dramatic glass lighting, textile drapings and upholstery with fine and intricate patterns.
There's most certainly scope to create the perfect combination of East and West in interiors, wherever the building stands. Mixing in elements of your country of residence is a good way to reflect your personal culture and heritage into a room, whilst still appreciating the Eastern culture.